Playstation 4 VR Headset
Console Dives Into VR
PlayStation is taking the lead in console virtual reality and releasing their own headset on October 13th. Originally known as "Project Morpheus" during development the VR headset will be sold for $399.Even though the price tag may seem high, it is the most affordable VR gaming headset out in the market. Despite the facts, most gamers out there have mixed opinions about this release. On one hand some gamers are excited to have an affordable VR headset but fear that it will not live up to expectations. This release can potentially make or break virtual reality for consoles for the next decade. On the other hand others can't get over the fact that they have been enjoying high-end virtual reality for the PC with much higher specs. Either way I believe this to be a major step forward for console gamers. Initial pre-orders can be found here.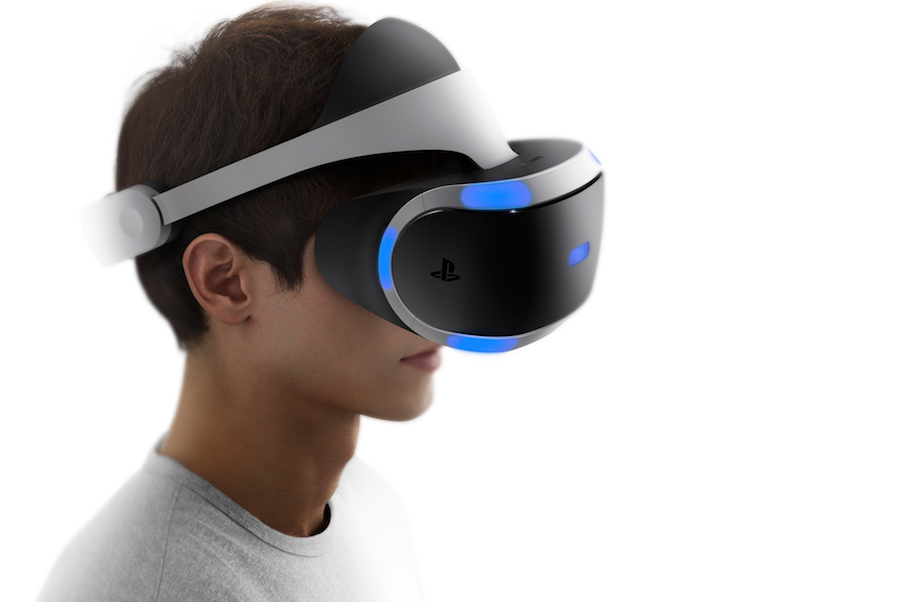 Playstation VR Design, Software and Specifications
The Playstation VR design looks clean and futuristic. Blue lighting decorates the edging of the headset on the white and black matte finish. Unlike other VR headsets out there this one sits on the top of your head. It has soft padding on your forehead and a button on the back to adjust the head circumference. Overall the headset has been rated to be comfortable. The refresh rate has been reported to being incredibly smooth. Sony Group CEO Andrew House has also announced that 50 games are to be released this year for the PS VR. Here are the full specifications:
External Dimensions
– VR headset: Approx. 187×185×277 mm (width × height × length, excludes
largest projection, headband at the shortest)
– Processor unit: Approx. 143×36×143 mm (width × height × length, excludes
largest projection)
Mass
– VR headset: Approx. 610g (excluding cable)
– Processor unit: Approx. 365g
Display Method

OLED

Panel Size

5.7 inches

Panel Resolution

1920×RGB×1080 (960×RGB×1080 per eye)

Refresh Rate

120Hz, 90Hz

Field of View

Approximately 100 degrees

Sensors

Six-axis motion sensing system (three-axis gyroscope, three-axis accelerometer)

Connection Interface
– VR headset: HDMI, AUX, Stereo Headphone Jack
– Processor unit: HDMI TV, HDMI PS4, USB, HDMI, AUX
Processor Unit Function
3D audio processing, Social Screen (mirroring mode, separate mode),
Cinematic mode
Included
– VR headset × 1
– Processor unit × 1
– VR headset connection cable × 1
– HDMI cable × 1
– USB cable × 1
– Stereo headphones × 1 (with a complete set of earpiece)
– AC power cord × 1
– AC adaptor × 1
Verdict
Now the downside is that the PS VR requires a Playstation Camera which is not included. Some games also require Playstation move controllers, again not included. Playstation VR bundle will include all the accessories and a demo disc for the price of $499. I still consider this to be a good deal at an affordable price. You can also buy the accessories separately. Initially some users reported motion sickness while using the Playstation VR but this issue has been fixed. Overall the PS VR provides a comfortable virtual reality gaming experience at an affordable price. The best part is that you don't need to upgrade any parts it just works with your existing PS4. With the many awesome titles to be released this year I think the choice is a no brainer for console gamers.
Find Like-minded Gamers with GamerLink, The Universal LFG Platform.
Check out TheBroTalk at:
Website – Facebook – Instagram – Twitter
Tags:
Gaming
,
Playstation
,
PS4
,
VR